07/04/2022 – Webinar: Learning more on the AEWEN initiative and how to succeed in Africa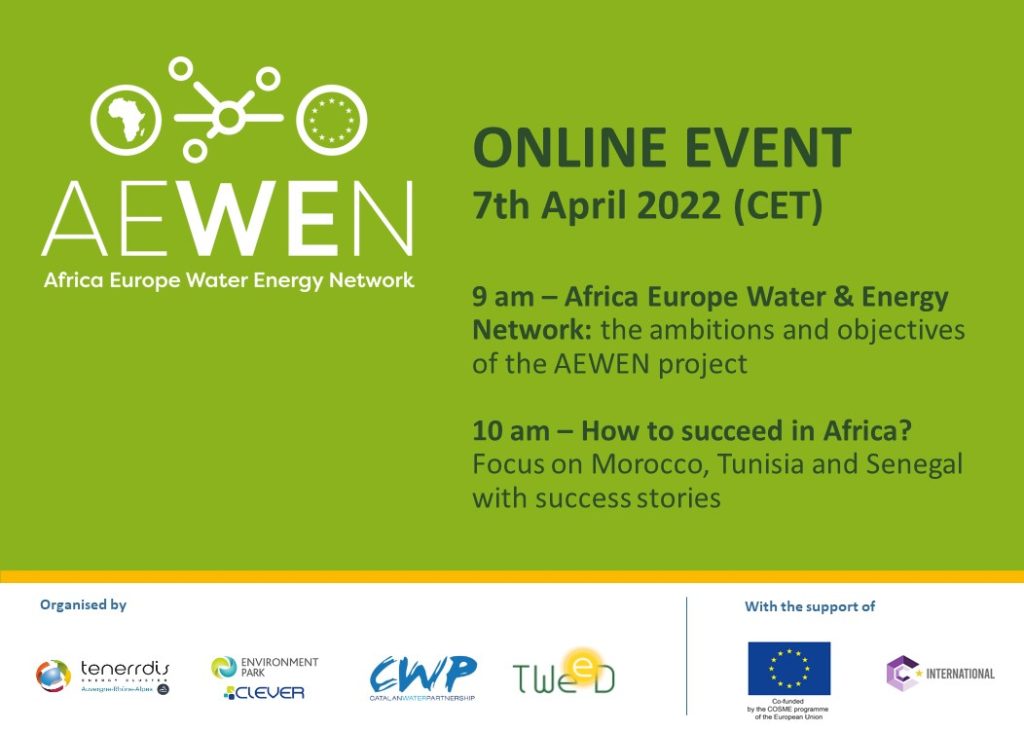 As part of an EU project focused on water and green energy solutions, the AEWEN consortium invites European companies to take part in the first of a series of webinars to support the internationalisation of European small and medium sized enterprises (SMEs) in the markets of Morocco, Senegal and Tunisia.
The webinar will be divided into two sessions:
9-10 am – Africa Europe Water & Energy Network: the ambitions and objectives of the European AEWEN project
10-11 am – How to succeed in Africa? Focus on Morocco, Tunisia and Senegal with success stories
What is AEWEN? The project "Africa Europe Water & Energy Network" aims to build a powerful network to encourage collaborations between African and European organisations in the complementary areas of water and energy. This project, carried out by four European clusters (CWP, Environment Park/Clever, Tenerrdis and TWEED), has received funding from the European Union's COSME programme.
Participate in the webinar to find out more!
Useful information
Where: online webinar on Zoom
When: 7th April 2022, from 9 amWho: European companies interested in the target markets (Morocco, Senegal and Tunisia)Registration mandatory via Eventbrite: Register now